50 Year Reunion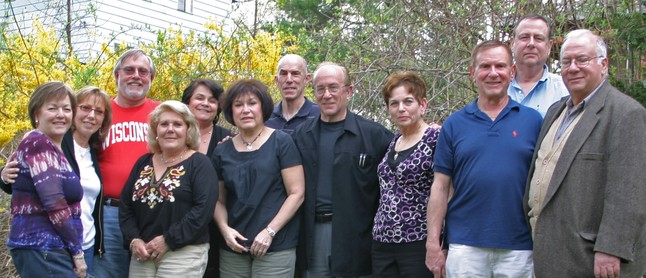 April 11, 2010 - The Planning Committee hard at work!
From left to right: Joyce Lohn, Bunny Baker Block, Bill Fritz, Sheryl Sankel Ives, Toby Nudelman Kaye, Angela Oxios Concklin, Peter (Pierre) Bellin, Joel Iskowitz Ives, Ellen Kempner Lawson, Jay Becker, Al Barris, Alan Hecht. Not in the picture - Gus Kourkoulis.
50th Reunion Date: Sept 16-18, 2011
Location: Doral Arrowwood, Rye Brook, NY
Use "Contct Us" on the side menu to request more information.
Dear JMHS Class of 61 Alumni,
"Life isn't about how to survive the storm.
but how to dance in the rain."
Most of us have survived the storm by now, and it is time to dance!!!
Join us for the 'dance'.
Can you believe that by this June both the January and June '61 alumni will have reached the 50
th
anniversary of our graduation from James Monroe H.S. and, on
Sept.16-18, 2011
we will celebrate that auspicious time of our life? This may be the last opportunity we have to reconnect with fellow Monrovians.
Now
is the time to make your reservation for this exciting weekend.
Your check for the full amount is due by
June 30
($155 per person),
in order to ensure your space at this amazing, fun-filled, "once-in-a-lifetime" chance to say hello again to those who made a difference in our young lives.
Included
in this price is a
cocktail hour
(hotel sponsored for guests of Arrowwood), the Saturday evening, 4 course
banquet
(kosher meal available on request), open bar from 7:15-8:15, (cash bar thereafter),
Sunday brunch
in a private room for those staying at the hotel (those not staying at the hotel may join us for brunch for $16.50 per person),
DJ, photographer, souvenirs, decorations, etc.
If you are planning to attend, and we hope you are, please be sure to send your money in by
June 30
as the banquet will be open to all classes after that date. You may still be able to attend BUT, it will be on a first come, first served basis, as there is a limit to the number of people the banquet hall can hold. We do want as many '61 grads as possible to attend to help celebrate our 50
th
.
On the next page we have listed the activities and events tentatively scheduled for the weekend. Whether or not you are staying at Arrowwood, you may pick those activities/events you wish to attend. Some of these have additional costs and it is important to know if we will have enough people to warrant scheduling them so, please check off your choices. Please send Joyce only banquet and bus tour fees. If there are not enough registered for the bus tour, we will refund your money.
James
Monroe High School Class of 1961 - 50th Reunion Weekend
Doral Arrowwood, Rye Brook, New York
The year 2011 is here! That means we have only a few months before the celebration of our 50th Class Reunion. Please reserve that weekend on your calendar and plan to attend the Big Event.
Our Reunion Committee has created a great opportunity for everyone to reconnect with the friends you remember from our high school days, make new friendships, perhaps meet some of our teachers and reflect on our high school memories.
Friday, September 16
Check-in at Doral begins at 3:00PM
Meet and Greet reunion registration
Informal get-together at The Pub in Arrowwood 7:30PM
Pool tables, dart boards, cash bar and dance floor
Soups/salads, sandwiches, burgers and entrees available for purchase
Saturday, September 17
Golf at Doral Arrowwood Golf Club
9 holes including cart $65
18 holes including cart $95
Reservations are required 914 323-4478 (pro shop) and you can rent clubs, if needed
Tour of JMHS and, tentatively, the old neighborhoods
9:00AM
Depending on the number of participants and size of bus the approximate cost is $28.
Afternoon
activities at leisure
There is complete use of hotel's facilities including gym, tennis and racquetball courts, pool(indoor/outdoor), sauna and steam room, or just hang out reminiscing. We also have a list of local attractions for sightseeing as well as local restaurants.
Doral Arrowwood Sponsored
Cocktail Hour
5:00-6:00 PM in the lobby for hotel guests
Reunion check-in
for Saturday attendees
7:30 PM
The Grand Banquet
7:45 – 8:15 Photos in front of JMHS begins in banquet Hall
8:15 - ? Dinner, 1 hour open bar (8:00- 9:00), cash bar, entertainment and memories
Sunday, September 18
So-Long
Sunday Brunch
available from 7:00 – 10:15 AM
$16.50++
for those
not
staying at the hotel.
Although breakfast is available at 7:00 for those who must leave early, The rest of us will meet in a private room beginning at 8:30 and will be able to stay after the brunch is removed. They will bring coffee and danish into the room for those staying later.
~~
You can come to the main event Saturday evening, the Friday get-together or just the Sunday Brunch – though we say –
"Come to all of it".
There will be lots of great friends (old and new), conversations and fun! We have a block of rooms for the out-of towners or anyone who wishes not to miss out on any of the fun. See your friends at any time during the day.
The main thing is------
See the registration form on the following page.
James Monroe High School Class of 1961 - 50 Year Reunion
September 16-18, 2011
___YES ___NO
I will be staying at the hotel tonight. (Make your reservation
with the hotel before August 16 to ensure the special rate.)
___YES ___NO
I will join you at The Pub. (Come and go from 7:00 - ?)
Saturday, September 17
Cost (per person)
___YES ___NO
I will be staying at the hotel tonight.
___YES ___NO
I wish to play golf. 9/18 holes
(Pay at Pro Shop)

$65/$95
___YES ___NO
I wish to tour JMHS and the Bronx.

$28
___YES ___NO
I will attend the Banquet.

$155
Includes 4 course dinner, 1 hour open
bar, DJ, photos, decorations and souvenirs
___
YES
___
NO
I need a Kosher Meal.
___YES ___NO
I will see you for brunch.

$16.50++

(if not
staying at Doral – to be paid at brunch)
Name of alumni attending
__________________________________
Name of spouse/guest
___________________________________
Make check payable to
Joyce Lohn, Treasurer Less $80 deposit_________(if paid, pp)
68 Sky Meadow Place Total check enclosed___________
We must receive full payment by June 30th or registration will open to other classes at which time reservations will be taken on a first come, first served basis – until we reach our capacity. We do want our '61 grads to have 1st priority-so,get your reg.in
**
We cannot guarantee seating but, if you have a group with whom you wish to sit at the banquet, please list their names at the bottom of the following page.
This form must accompany your check!!!
Must be returned with registration
NAME_________________________________________________

ADDRESS_________________________________________________
CITY__________________________STATE_______ZIP____________
Email
_____________________________________
Phone (Day)
_______________________
Evening
____________________
Spouse/Significant Other/Guest
_________________________________
Children/Grandchildren (names/ages)
_________________________________________________________
_________________________________________________________
_________________________________________________________
_________________________________________________________
Which elementary school did you attend______________________________________
Which JHS did you attend_________________________________________________
What was your favorite activity in HS_________________________________________
Who was your favorite teacher______________________________________________
Who was your worst teacher________________________________________________
What was your best time in HS______________________________________________
What have you done since high school_________________________________________ _____________________________________________________________________
_____________________________________________________________________
_____________________________________________________________________
What else would you like to share
_____________________________________________________________________
**
At the banquet I would like to sit with:
__________________________________________________________________________________________________